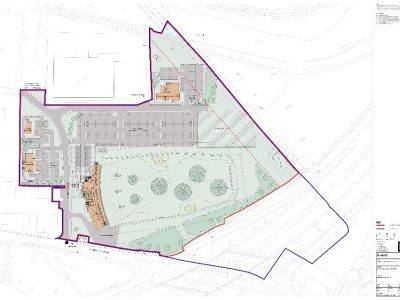 Project Info
Project Description
ITPEnergised were commissioned by Ashfield Commercial Properties Limited to undertake noise and air quality assessments to be submitted with a planning application to develop a brownfield site in Rutherglen, South Lanarkshire. The development included the erection of a multi-level golf leisure facility, 2 drive-thru restaurants and 1 restaurant, together with associated enclosure, infrastructure, access routes and landscaping. The assessments take into consideration potential impacts due to the development arising at existing sensitive properties, and the predicted exposure levels to noise and air pollution of future users of the facility.
Our Role
ITPE consulted with South Lanarkshire Council (SLC) to agree the scope and approach of the noise and air quality assessments.
Noise Assessment
ITPE undertook a survey to characterise the baseline noise environment during the daytime and the night-time.  We predicted future operational noise levels using CadnaA 3D noise modelling software and evaluated these against the baseline levels.
Traffic flow data were used to model existing and future traffic flows to evaluate the potential increase in traffic associated with the development. Our assessment demonstrated that noise impacts associated with the development were not significant, and that no specific mitigation measures were required.
Air Quality Assessment
A dispersion model including the local road network was built using ADMS Roads and verified against measured concentrations at SLC monitoring sites.
The model was then used to predict future concentrations at several sensitive receptors, with and without development to assess the change in pollutant concentrations and evaluate the impacts.
The site suitability for commercial use was also determined by predicting future pollutant concentrations within the site and comparing these with the relevant air quality standards.