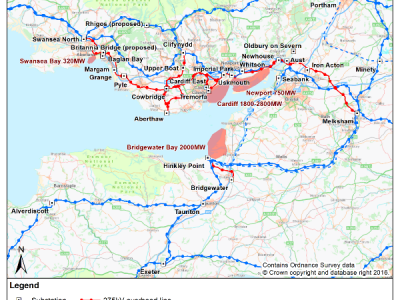 Project Description
Charles Hendry was appointed in May 2016 to assess the strategic case for tidal lagoons; whether they could represent value for money for the consumer and the role they could play in the UK's energy mix.
ITPEnergised was appointed under the Business Energy and Industrial Strategy (BEIS) Technical Specialist Framework as the technical advisor to the Hendry review.
Our Role
ITPEnergised led a consortium of experts comprised of engineers and environmental scientists to support the review team in technical and commercial matters.
Our team carried out a pre-feasibility study on a potential UK lagoon programme, based on submissions received under the Review's call for evidence and ITPEnergised's own analysis. We researched aspects of a potential lagoon programme including:
Value of energy including cost of energy, security of supply and carbon saving
Lagoon site finding and numerical modelling of UK lagoon programme scenarios
Environmental Screening and planning
Value comparison of all identified lagoon sites
Energy production modelling and system operability considerations
Future cost reduction potential
Grid impacts in the Severn region.
Global opportunities and supply chain
Project Details
The independent review included:

an assessment of whether tidal lagoons could play a cost effective role as part of the UK energy mix
the potential scale of opportunity in the UK and internationally, including supply chain opportunities
consideration of a range of possible structures for financing tidal lagoons
consideration of different sizes of projects as the first of a kind