Countdown to COP26: Finance
As COP26 approaches, Governments around the world are revisiting their Nationally Determined Contributions (NDCS) and updating their commitments to reducing carbon emissions. As developed nations have revised their own 2030 targets and outlined plans for net zero, progress has been disappointing in raising finance to support developing nations fight climate change. Without financial help, developing nations cannot afford to set ambitious NDCs. In this article we take a look at climate finance in the run up to COP26.
Are developed nations doing enough to meet their NDCs?
Climate finance is one of the crucial negotiating points at COP26; success in meeting climate targets relies on appropriate levels of financing. Between 2015-2016 and 2017-2018 overall adaptation finance flows increased 35%[1] due to steady increases in financing across all types of investors. However, they still fall short of what is required to avoid severe economic and human impacts, as can be seen in Figure 1.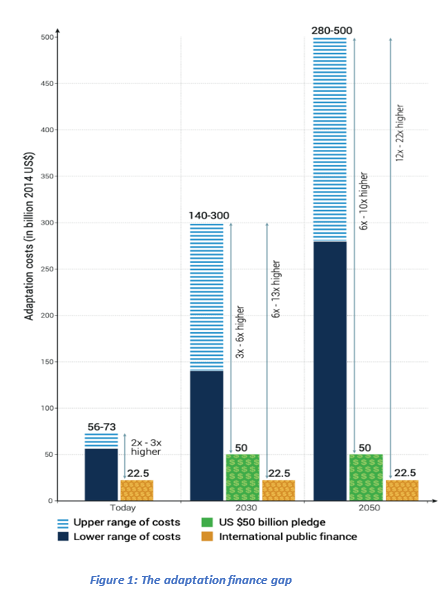 To exacerbate the issue, some of the world's largest emitters have missed the UN's extended deadline to submit their climate change plans for COP26. This summer, all G20 countries committed to "update or communicate ambitious NDCs by COP26". The results of this commitment are yet to be seen from some G20 nations and the success of COP26 hinges on ambitious targets set by developed nations, including China.
As of June 2021, 59% of the Parties to the Paris Agreement have updated or submitted their new NDCs which account for 49% of the global greenhouse gas emissions. However, the full NDC Synthesis Report issued on 17th September 2021, contains some worrying findings. Analysis of the NDCs shows a sizable increase (16%) in global greenhouse gas emissions is expected by 2030 compared to 2010 values; an increase of this size could lead to a disastrous increase in temperature of 2.7°C by the end of the century[2].
Are developed nations doing enough to support developing nations?
In September this year, American President Joe Biden promised to help developing nations tackle the climate crisis by pledging more than $11bn in Climate Finance. There is still time for this pledge to generate positive action from other wealthy countries and boost attempts to avert a disastrous climate crisis. However, much remains to be done and more is required.
Mobilising finance and support for developing countries is one of four stated goals for COP26, "Developed countries must make good on their promise to mobilise at least $100bn in climate finance per year by 2020". Lack of finance is one of the main factors behind slow economic and climate change adaption progress in developing countries. In the context of two adaptation projects for Sierra Leone and Democratic Republic of Congo, research carried out by ITPEnergised showed that 65% of consulted stakeholders indicated that finance was the main barrier in Climate Change adaptation.
At COP21 in Paris, developed nations agreed to a collective goal of raising $100bn annually to support developing nations in responding to the climate crisis. However, research from Oxfam[3] criticises efforts towards this goal; there has been excessive use of loans and the provision of non-concessional finance by developed countries, rather than grants to meet these targets.
Oxfam's research suggests that estimates of $59.5bn of climate finance from developed countries in 2017-18[4] are overstated. They estimate the finance given to developing countries once interest and repayments are accounted for is only $19–22.5bn per year in 2017–18. The provision of grants equates to $12.5bn 2017-18 which is 14% higher than the previous year, but still significantly short of the $100bn goal set out in Paris.
More private sector finance is critical to close the investment gap
The World Bank outlines how private finance is critical in bridging the shortfall in Climate Adaptation[5]. It is difficult to quantify investment provided by the private sector, as these investments are often mis-classified in national statistics. The IFC estimates that a total of $2.3 trillion was impact invest was made in 2030[6]. Private impact investment is a growing market, however, it is clear that the private sector can and should do more.
And it's not all about Carbon; society is demanding investments that create Environmental and Social Governance (ESG) impact and investments that have wider societal benefits and that can help meet a range of Sustainable Development Goals (SDGs). With government support, reducing risk to help leverage private finance, and support from international donors, the private sector can provide much of the capital and expertise required to deliver carbon reduction at the scale required in developing countries whilst also creating the other ESG systemic impacts. COP26 provides a platform where Governments of developed nations can outline policies of how to leverage more private finance and give more confidence to private impact investment.
What to look out for at COP26
As world leaders gather at COP26 this November, we need more action to fight climate change. To ensure COP26 is successful in moving the world to Net Zero in 2050, the following progress in terms of Climate Finance should be made:
All G20 nations submit revised, and more ambitious NDCs
Developed nations reiterate their commitment to climate finance and outline the nature of the finance to be clearly specified in COP26 talks. Firm, timely commitments made with a strong framework for reporting on progress and identifying any shortfalls.
Concrete steps taken by developed countries to support and encourage private climate change investment in developing countries.

Article written by Gino Bawn, Head of Offshore Renewables at ITPEnergised, with contributions from colleagues Claudia Raimundo, Associate and Harriet Assem, Technical Director ESG and Sustainability and Charles Yates, International Offshore Wind Consultant at CmY Consultants Ltd. For any follow-up questions on ESG and investment impact, please do contact claudia.raimundo@itpenergised.com or harriet.assem@itpenergised.com.
[1] Extracted from : World Bank, Enabling Private Investment in Climate Adaptation & Resilience, https://openknowledge.worldbank.org/bitstream/handle/10986/35203/Enabling-Private-Investment-in-Climate-Adaptation-and-Resilience-Current-Status-Barriers-to-Investment-and-Blueprint-for-Action.pdf?sequence=5
[2] UNFCCC, https://unfccc.int/news/full-ndc-synthesis-report-some-progress-but-still-a-big-concern
[3] Oxfam, "Climate Finance Shadow Report 2020", 2020, https://www.oxfam.org/en/research/climate-finance-shadow-report-2020
[4] 2015–16 figure is OECD estimate see – OECD (2019b).
[5] World Bank, Enabling Private Investment in Climate Adaptation & Resilience, https://openknowledge.worldbank.org/bitstream/handle/10986/35203/Enabling-Private-Investment-in-Climate-Adaptation-and-Resilience-Current-Status-Barriers-to-Investment-and-Blueprint-for-Action.pdf?sequence=5
[6] IFC, Investing for Impact, 2020. https://www.ifc.org/wps/wcm/connect/publications_ext_content/ifc_external_publication_site/publications_listing_page/impact-investing-market-2020