ITPEnergised is delighted to present our second annual 'ESG Transparency Private Equity and Venture Capital Index 2021', completed in partnership with Orbis Advisory Ltd.
COP26 shone a spotlight on the increasing risks from climate change, raising awareness as to what is required by governments, financial institutions, organisations and the public sector to limit global warming to the 1.5°C target of the 2015 Paris Agreement. Financial organisations have a vital part to play in delivering this goal by using their central role to bring about systemic change and helping to mobilise capital to decarbonise the economy.
After the success of last year's inaugural report, we have expanded the scope of the research and have analysed the ESG reporting performance of 155 Private Equity, and for the first time 122 Venture Capital firms. The Index profiles the top performers, and we include some fascinating testimonials from leading firms on the benefits ESG has brought to their business and what advice they would give to firms starting out on their ESG journey. We also welcome GRESB's endorsement of this year's Index.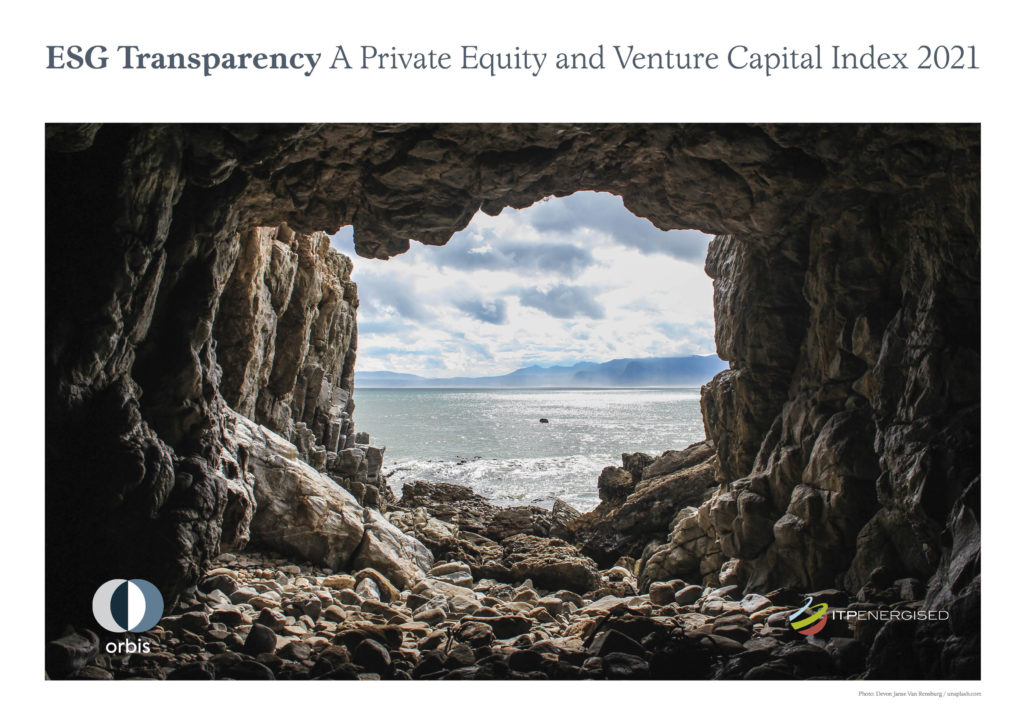 Encouragingly, more PE firms are now adopting and disclosing their responsible investment practices and ESG performance, and we report that the VC sector is increasingly recognising the opportunities created by having a value-creating ESG strategy embedded into their investment approach as well as their own in-house ESG polices. We identify several common themes around PE houses' ESG transparency performance, year on year trends, and how the sector is evolving its strategies to manage and optimise emerging ESG factors. We also explore VC houses and how they are utilising ESG as a market differentiator and mechanism to increase performance and add value.
Amongst the findings, we report that :
ESG transparency for PE firms significantly improved since 2020
Integrating ESG in the investment portfolio is a greater focus than in-house for PE firms
Renewables & electricity and infrastructure sectors are associated with higher ESG scores for PE firms
PE firms investing in Asia had higher ESG scores
The UN PRI is the most common ESG-related benchmark PE firms reference
While still in its infancy, the adoption of ESG considerations into investment processes by VC firms is rapidly increasing
Pre-investment due diligence is the most common ESG factor considered by VC firms
This Index offers a fresh, independent perspective on the importance of ESG transparency and provides an important snapshot into what is currently considered best practice and what is required to develop a value adding ESG strategy.
Please download the Index here.
We hope you enjoy reading it and please do reach out to ITPEnergised's ESG team at esg@itpenergised.com if you need help navigating this rapidly evolving landscape. We can help your organisation realise value through strategic advice backed by sector specific knowledge and understanding.