ITPEnergised has previously written on CfD. Part 1 is a CfD explainer and part 2 looked forward to some of the proposed CfD AR4 changes.
BEIS has just issued a press release on the hotly anticipated CfD AR4 ahead of the round opening in December this year. The BEIS message is that this is the largest ever round in this renewable energy price stabilisation reverse auction scheme in GB; aiming to more than double the capacity secured in AR3 and generating more clean energy than the previous rounds in aggregate. In total, some £265m is earmarked for AR4. So, what are the headlines and does this go far enough to enable our net zero targets?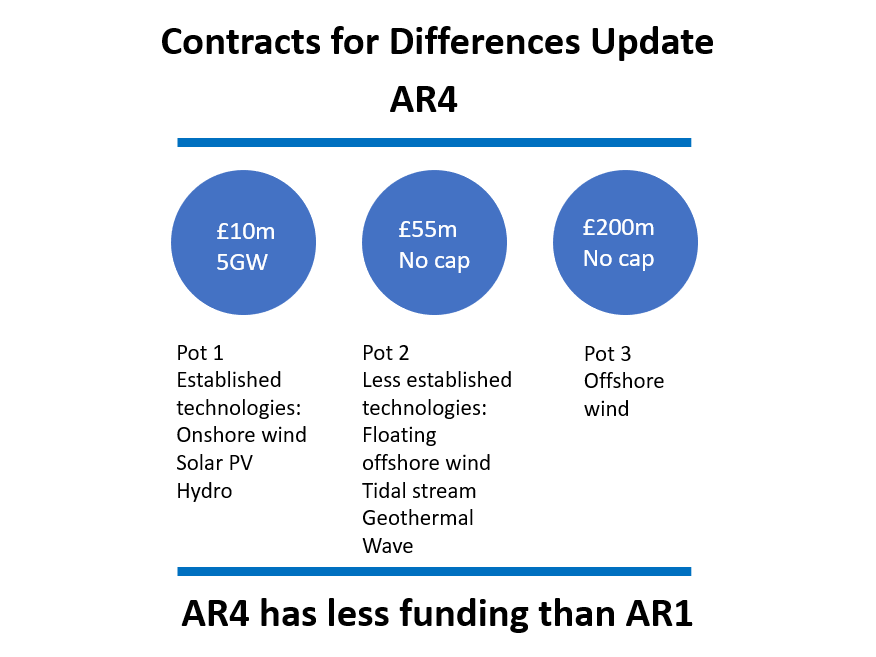 Pot 3: Offshore wind
For the separate offshore wind pot, there is a £200 million pot budget with no capacity cap. This will help towards the goal of 40GW of capacity by 2030.
Previously 9.8GW of offshore renewable capacity has been awarded across AR1-3. The £200m proposed in AR4 pot 3 and £55m in AR4 pot 2 is comparable to the £155-260m for less established technologies in AR1 on a 2011/12 pricing basis. So, does ambition fall short given current net zero targets?
Pot 2: Less-established technologies (includes Floating Offshore Wind, Tidal Stream, Geothermal and Wave):
There is a £55 million pot budget with no capacity cap imposed. £24m of ringfenced support for Floating Wind, along with the Government's goal of 1GW of FOW by 2030 is promising, but is it enough? There are potentially several GW scale floating wind projects in the latest Scotwind leasing round. In addition, upcoming Celtic Sea and further Scottish offshore wind demonstrator leasing will add to a thriving industry in the UK by 2030; will further revenue support be needed?
Pot 1 – Established technologies (onshore wind, solar and hydropower)
Only CfD AR1 in 2015 has enabled onshore renewable technologies within the 3 historic rounds, so including established technologies in AR4 is a welcome change to drive towards net zero. For AR1 onshore wind was awarded 0.75GW and solar PV 0.07GW of capacity. In March last year, the Johnson government ended the Conservatives' four-year ban on onshore wind and solar participating in CfD reverse auctions. In AR4 BEIS indicate that capacity of up to 5GW will be awarded with a budget of £10m (2011/12 prices) with a maximum cap of 3.5GW on both onshore wind and solar PV. By comparison, AR1'S established technology budget was £50m in delivery year 2015/16, £65m in delivery years 2016/17-2020/21 (all in 2011/12 prices) so AR4 represents a drop in potential funding.
In summary, we welcome the CfD announcements today showing the UK Government's support for renewables, but we feel that on an equivalent pricing basis that the AR4 budgets proposed are in fact less than AR1. Whilst government optics show more capacity in AR4, this is really due to the pricing reduction in renewable generation that this CfD scheme has helped to realise. The question still therefore remains, does this do enough to meet our net zero obligations? To access our previous CfD papers, please click here.