Part 2 – Innovation in the Electricity Sector
A founding core value we have a passion for demonstrating at ITPEnergised is technology enabled innovation. As well as recently launching our new digitally enabled consulting and digital products platform "The Net Zero Accelerator®" we have developed an eight-part thought leadership series on human innovation.
In the first part of the series, we identified the key periods of discovery in human civilisation and that this culture of innovation has been steeped in our history, dating back at least some 2.4 million years. This provides us with hope as we tackle the sustainability era of current times. The next part in the series focuses on the history of innovation in the electricity sector.
Our history in electricity sector innovation goes back some 270 years
The history of innovation in the this sector is important to understand, as electricity consumption is highly positively correlated to country Gross Domestic Product (GDP) and therefore provides an essential link to human prosperity and consequently human welfare and choices. The following infographic illustrates the innovation timeline.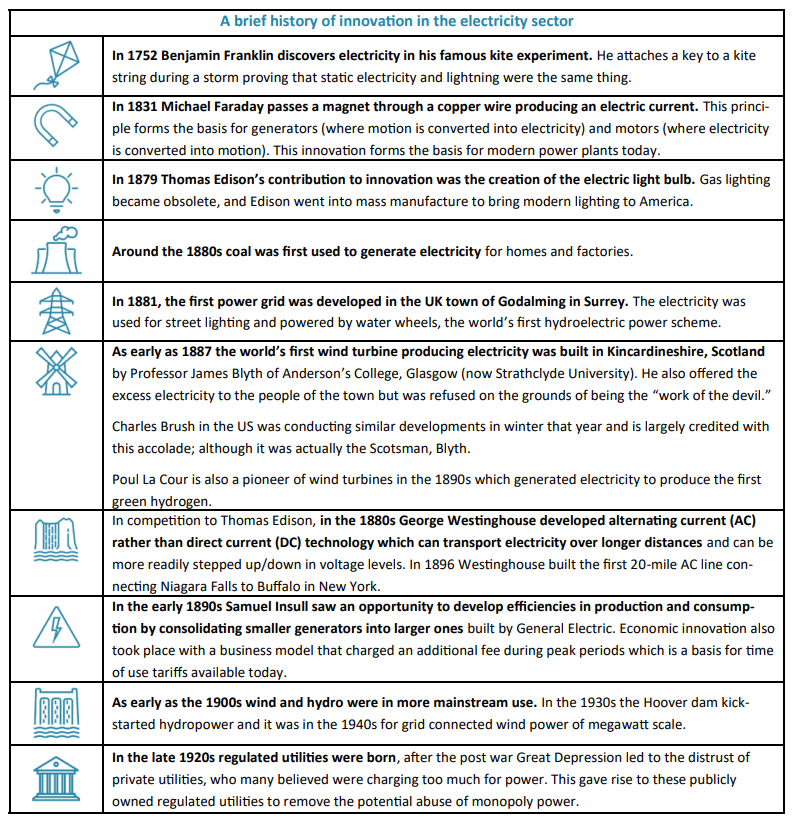 Conclusions
Much of the innovation in this sector happened well over a century ago including green hydrogen production from renewables in the 1890s, renewables generation in 1887, DC and AC grids in the 1890s, thermal generation in the 1880s that balanced electricity at source; even business model innovation of peak demand tariffs happened in the 1890s with the option of surplus electricity supply traded to peers identified as a route to market in 1881.
This highlights that the original blueprint hasn't actually departed materially from the age of its original discovery. But changes are now rapidly evolving within an era of accelerated net zero and ESG capital. We look forward to both disruptive and incremental innovation to shake up this industry to solve the serious challenges of the net zero era of sustainability.
Download on PDF here.
For a demo on our Net Zero Accelerator ® please contact Peter Lo, Digital Strategy and Innovation Director at peter.lo@itpenergised.com
Part 1 Human Innovation has been Intrinsic to our Evolution as a Species
Part 2 A Brief History Of Innovation in the Electricity Sector
Part 3 The Sustainability Revolution and the Electricity Sector
Part 4 Net Zero Challenge #1 Balancing the Grid
Part 5 Net Zero Challenge #2 Energy Independence
Part 6 Net Zero Challenge #3 The Geopolitics of Supply Chains
Part 7 Net Zero Challenge #4 People Resourcing of Net Zero
Part 8 Net Zero Challenge #5 Decarbonising Difficult Loads