Part 7 – Net Zero Challenge #4 People Resourcing of Net Zero
This innovation thought leadership series has so far shown that:
Human innovation has been an intrinsic part our evolution as a species for at least 2.4 million years or 86% of our time on planet Earth;
A brief examination of history in the electricity sector has shown that not much has fundamentally changed from the 1880s; and
As a result of achievements in the Scientific, Technological and Industrial Eras this has given rise to becoming a victim of our successes and led to our current Sustainability Era where we are aiming to combat climate change to pre-Industrial emissions levels. One of the end states of this era aims to achieve net zero emissions by at least year 2050.
However, in order to achieve net zero by 2050, we foresee at least five key challenges and these are discussed in the remainder of this series. So far we have examined #1 Balancing the Grid, #2 Energy Independence , #3 The Geopolitics of Supply Chains and this part deals with #4 People Resourcing of Net Zero.
#4 People Resourcing of Net Zero
Huge net zero financial capital means we also need correspondingly huge human capital.
According to Bloomberg New Energy Finance1, 2021 spend in the energy transition totalled $US755 billion (see table below); up some 27% from the previous year. Interestingly, half of the spend took place in Asia but all regions globally recorded strong year on year growth.
This shows that corporates are more committed to the energy transition than ever. $US366 billion investment took place in traditional renewables such as wind, solar and other renewables. Electrified transport was the second largest segment with $US273 billion invested. Only investment in carbon, capture and storage dipped.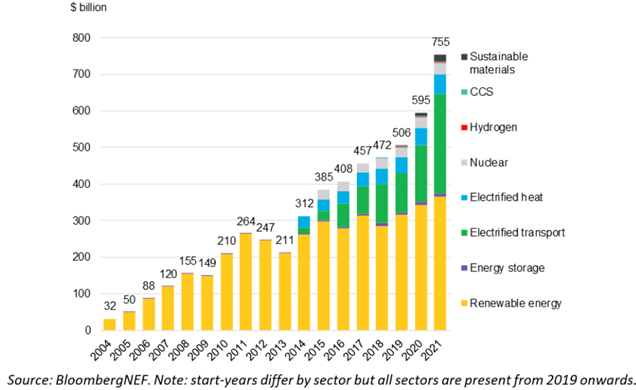 To get to net zero by 2050, however, investment needs to triple from 2021 levels to $US2.1 trillion during 2022-25, then to $US4.2 trillion between 2026 and 2030. As well as more financial capital and innovation we of course also need human capital to be able to deliver net zero.
Human Capital for Net Zero
The Global Energy Talent Index (GETI) Report2 2022 discusses recruitment and retention and uncovers several themes:
The balance of power rests with prospective employees. The two trends of technological transformation and energy transition create a technical skills gap, particularly in Science, Technology and Engineering subsets of STEM. This creates cross sector and cross border opportunities for prospective employees.
Post Covid rebound. As economies rebound after the Covid restrictions, that has created a rebound in renumeration.
Technological and digital transformation. The two trends of decarbonisation and remote working during Covid restrictions have accelerated both technological and digital transformations. This creates a new war on tech talent across all industries and also a highly sought-after transferable skill.
Corporate Environmental, Social and Governance (ESG) is becoming a deciding factor in job decisions, with prospective employees increasingly looking to work for a company with purpose over just financial compensation.
Given these global trends, what can employers do?
The GETI report therefore highlights three actions an employer can develop within these global workforce trends:
Career progression – learning and development as a platform to enabling more career progression and international transfers.
Making ESG a brand differentiator – giving employees a chance to propel innovation and energy transition projects that provide greater purpose and meaning in the day to day.
Making innovation a focus area – innovation is cited as a key driver for prospective employees and digital innovation is an approach that can release trapped value in a company that has incumbent legacy processes and silos enabling greater economic improvement at the same time as employee engagement.
Conclusions
In addition, ITPEnergised forecast that achieving net zero with the massive capital and volume of projects needed, must also eventually become a sheer numbers game and result in a highly competitive market on the human capital front.
By definition, and in a positive note; this should unlock further diversity and inclusiveness within the workforce and opportunities should abound for all. The Sustainability Era is unlocking a renewed and intrinsic attitude within more and more employees to work for companies with purpose; our planet matters and therefore companies need to reposition themselves in order to market and attract the best prospective employees, going much further than financial compensation itself.
Covid restrictions improved employee mobility, flexibility and will drive an increased uptake in offshoring with the potential to improve and unlock both cultural diversity and economic goals. Data science, artificial intelligence (AI) and machine learning (ML) ought to remove boundaries between organisational silos and legacy processes improving value and releasing employees into higher value add activities.
We witnessed that the war in Ukraine gave rise to some novel approaches in people recruitment drives; including the deliberate targeting of Ukrainian students and professionals to come and work in clean energy.
AI and ML continues to play a growing role in recruitment processes skimming the internet for the best talent without borders. Resourcing for human capital will continue to become more about fishing in different ponds and become increasingly cross industry and cross sector.
ITPEnergised is a business which embodies many of these attributes and opportunities for talent:
Learning and development – this is a key pillar of what we are doing and will only be improving;
We have opportunities to really be part of the net zero transition, working on some of the most exciting projects in the market-place;
We are truly flexible and encourage innovative working patterns; and
We are supporting our clients to embrace ESG principles as a key foundation of their businesses.
A link to our careers page is here and we welcome enquiries from smart, hard-working and innovative people who want to join our net zero mission. 
Download Part 7 on PDF here. For a demo on our Net Zero Accelerator® please contact Peter Lo, Digital Strategy and Innovation Director at peter.lo@itpenergised.com.
Part 1 Human Innovation has been Intrinsic to our Evolution as a Species
Part 2 A Brief History Of Innovation in the Electricity Sector
Part 3 The Sustainability Revolution and the Electricity Sector
Part 4 Net Zero Challenge #1 Balancing the Grid
Part 5 Net Zero Challenge #2 Energy Independence
Part 6 Net Zero Challenge #3 The Geopolitics of Supply Chains
Part 7 Net Zero Challenge #4 People Resourcing of Net Zero
Part 8 Net Zero Challenge #5 Decarbonising Difficult Loads
1 Energy Transition Investment Trends 2022, Bloomberg New Energy Finance; 2 The Global Energy Talent Index Report 2022, Airswift