Part 3 – The Sustainability Revolution
The sustainability revolution is here and it is driving wholesale change across generation, transmission, distribution and prosumers. With an increasing number of countries moving in this direction to solve net zero emissions by 2050, let's take a look at how the electricity sector has or will soon be changing.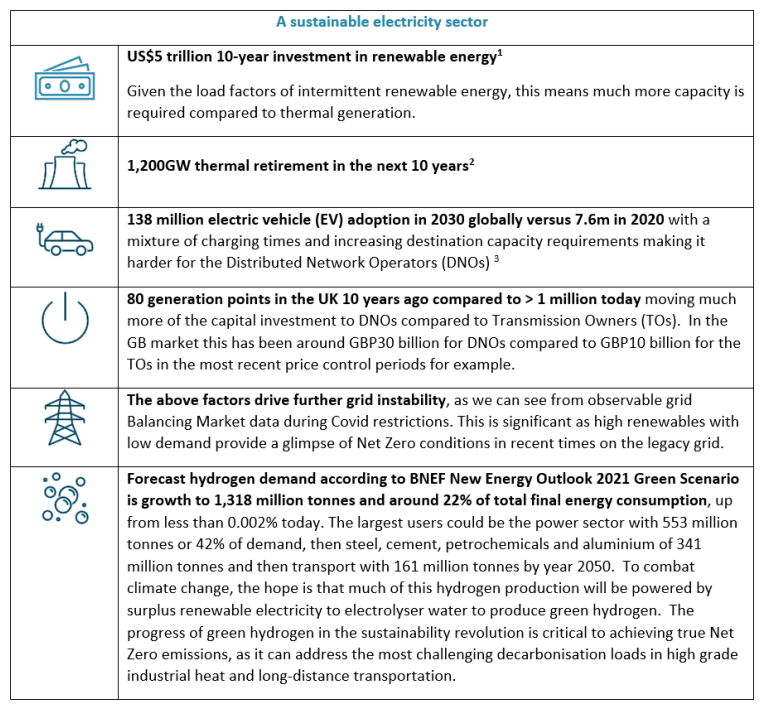 1 BNEF 2 UK IPCC 3 IEA
Conclusions
Innovation has been at the heart of human civilisation for some 2.4 million years. Our recent innovation periods of the scientific, industrial, and technological revolutions have paved a pathway to becoming a victim of our own success and we are now subsequently wrestling with how to get back to pre-industrial levels of emissions through the current sustainability revolution.
The next part in our series examines what might be the top challenges of net zero within this current era and how innovation must form a key part of the answer.
Download Part 3 on PDF here. For a demo on our Net Zero Accelerator ® please contact Peter Lo, Digital Strategy and Innovation Director at peter.lo@itpenergised.com
Part 1 Human Innovation has been Intrinsic to our Evolution as a Species
Part 2 A Brief History Of Innovation in the Electricity Sector
Part 3 The Sustainability Revolution and the Electricity Sector
Part 4 Net Zero Challenge #1 Balancing the Grid
Part 5 Net Zero Challenge #2 Energy Independence
Part 6 Net Zero Challenge #3 The Geopolitics of Supply Chains
Part 7 Net Zero Challenge #4 People Resourcing of Net Zero
Part 8 Net Zero Challenge #5 Decarbonising Difficult Loads