Part 4 – Net Zero Challenge #1 Balancing the Grid
This is the second section of our series looking at human innovation in the electricity sector. The first section (parts 1-3) showed that innovation more widely, has been at the heart of human civilisation since records began some 2.8 million years ago. Our recent innovative periods of the scientific, industrial and technological revolutions have paved a way to us becoming a victim of our own success and now we are wrestling with how to get back to pre-industrial levels of pollution. And this, through the current sustainability revolution.
This next part in this thought leadership series examines what might be the top five challenges in being able to achieve net zero, and how innovation, in the absence of an economic solution today, must play a key part in the answer.
As we work backwards from the likely end point of the sustainability revolution of net zero emissions; there are "known – unknown" challenges that need to be addressed along this pathway; that is, we know these challenges exist, but we do not know what the solutions might be at this time.
Five key Net Zero challenges we foresee today, assuming the regulations catchup and digitisation continues to unlock trapped value will be discussed in the remainder of this series.
#1 Balancing the Grid
#2 Energy Independence
#3 The Geopolitics of Supply Chains
#4 People Resourcing Net Zero
#5 Decarbonising Difficult Loads
Balancing the Grid
During the Covid Restrictions driven by the global pandemic, many countries with higher prevailing quantities of intermittent renewable energy, coupled with lower consumer demand driven by the restrictions in force, gave rise to real life conditions more resembling net zero.
This was a significant event as it equips us with real data to analyse the future effects of net zero conditions on the legacy physical grid, the power and grid balancing markets. As an example, the datasets from National Grid ESO of the GB Balancing Market during 2020-2021 can be shown illustratively in Figure 1 below: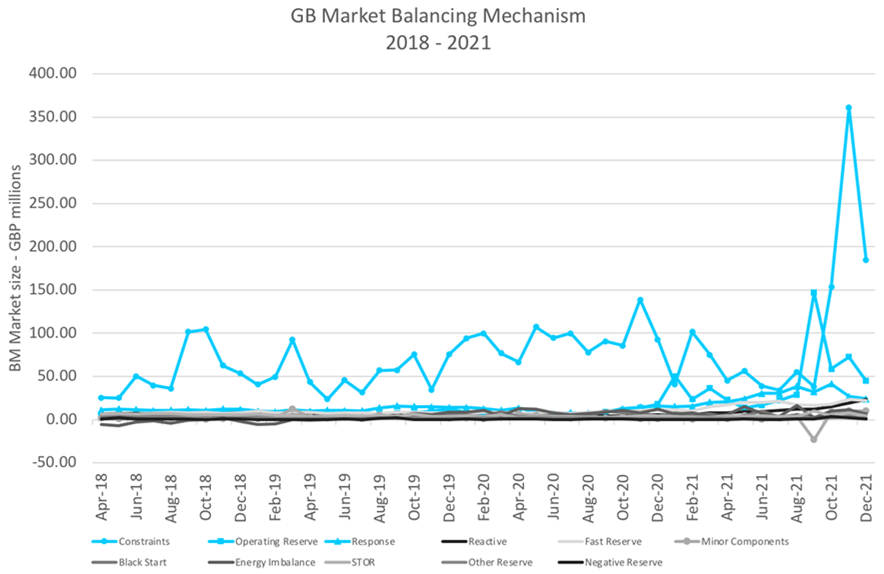 In this chart, the top three markets have rallied significantly beyond normal pre Covid levels, including Constraint Payments (7x on historic levels), Operating Reserve (15x on historic levels) and Frequency Response (>2x on historic levels). Average demand has reduced compared to pre Covid levels by 7.1% in 2020 v 2019 and 3.2% in 2021 v 2019.
We can therefore learn and expect to see similar impacts as we approach net zero conditions over time in the absence of new disruptive innovation that can ameliorate the adverse impacts. We always knew that net zero would exacerbate the energy trilemma of affordability, sustainability, and reliability but now we are armed with a glimpse of the associated datasets in various markets around the world.
As an example, the GB Balancing Market that gets recovered through Balancing Services Use of System charges has seen a rapid rise – over double – in recent years:
2021 – GBP 2.65 billion
2020 – GBP 1.79 billion
2019 – GBP 1.2 billion
This ultimately drives up the non-commodity price of electricity for the end consumer.
Conclusions
The AC legacy power grid was a simple design for one way flow of electricity from largely thermal power plants that were balanced at source through governors on spinning mass. Today, that world is changing, and the thermal power industry is sunsetting. Innovation must be able to provide an affordable solution to balance the legacy electricity grid with an increasing share of intermittent renewables and millions of distributed energy resources (DERs).
Without such an intervention, the energy trilemma remains unsolved.
Download Part 4 on PDF here. For a demo on our Net Zero Accelerator® please contact Peter Lo, Digital Strategy and Innovation Director at peter.lo@itpenergised.com.
Part 1 Human Innovation has been Intrinsic to our Evolution as a Species
Part 2 A Brief History Of Innovation in the Electricity Sector
Part 3 The Sustainability Revolution and the Electricity Sector
Part 4 Net Zero Challenge #1 Balancing the Grid
Part 5 Net Zero Challenge #2 Energy Independence
Part 6 Net Zero Challenge #3 The Geopolitics of Supply Chains
Part 7 Net Zero Challenge #4 People Resourcing of Net Zero
Part 8 Net Zero Challenge #5 Decarbonising Difficult Loads